Elephants of Scotland was formed in 2010 in Burlington, Vermont, where they set upon the challenge of starting a progressive rock band in a place better known for jam bands and cows.
EoS released their debut album Home Away from Home in the spring of 2013 which was met with positive reviews and praise from the international progressive rock community.  On the strength of this album alone, they were invited to play the prestigious three-day international progressive rock festival RoSfest in Gettysburg, PA in 2014.
With a year to prepare for that show and not wanting to rest on their laurels, the band got to work on new material and put together a home studio where they could work at their own pace with the goal of releasing a new album prior to their appearance at RoSfest. They accomplished this with the self-produced sophomore release Execute and Breathe in the Spring of 2014.
EoS opened the Saturday line-up at RoSfest at the acclaimed Majestic Theater with a blistering 90-minute show and a standing ovation that was recorded in High Definition video and 24-bit digital multi-track audio.  This was released as a live album/DVD package in the spring of 2015.
Two days after RoSfest they opened up for the esteemed Swedish band Beardfish at the New Jersey Prog House Music Series at Roxy and Dukes in Dunellen, NJ.
They played at the 2015 Marillion Weekend Festival in Montreal and the 2015 Terra Incognita Prog Rock Festival in Quebec City, where they debuted two new songs to standing ovations and enthusiastic fans.
June 2016 saw the release of their third album, The Perfect Map. This was followed soon after by an all-instrumental version of it called Random Mirth.
Through the internet, word of mouth, the quality of their music and the power of their performances, they continue to enjoy a growing fan base and sharing their music around the world.
The Band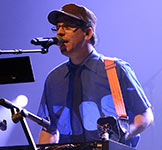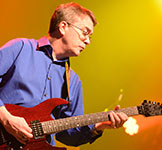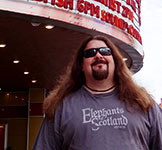 Adam Rabin
Keyboards, vocals. Adam brings the hooks and innovation from his long-time studio pop project Mailbox to feed his need for Prog Rock with Elephants of Scotland. Adam plays a Roland Juno-G with a Roland Lucina AX09 keytar so he can strut around the stage like the cool kids or look all bad ass with an imposing stack of keyboards.
John Whyte
Guitars, vocals. Founding and only member of Lefty and the Left-outs, John has been harassing people with his playing since 1977, performing throughout New England and even New Jersey. Viciously saddled with having to perform "Safety Dance" with Hot Neon Magic, John has searched for ways to enact his sonic wrath and has finally found it (the Batman thing didn't work out but that's another story). John is a Line 6 advocate bringing the gospel of the James Tyler Variax and HD500 to the affected masses.
Bob Gagnon
Bass. Bob was raised in a musical family in northern Vermont, USA, about 40 miles from the Canadian border. He began playing and studying guitar at the age of six, inspired by the playing of his father, from whom he learned Quebecois fiddle tunes and songs from the American songbook. After studying jazz guitar at Ithaca College, Bob returned to Vermont and formed the Bob Gagnon Trio in 1989. In 1998 Bob released Apple for the Teacher, a CD of mostly original jazz compositions. Bob is front man for Small Change, a Tom Waits tribute band that has played throughout New England and in New York City. As bass player for Elephants of Scotland, Bob takes his inspiration from melodic bass players such as Jaco Pastorius, Ray Schulman, and Phil Lesh.
Greg Skillman
Lyricist. Musician and songwriter Greg Skillman has played in bands of many styles for the past 25 years. He's collaborated with Adam Rabin in the bands Magpie, Mailbox and Mahout, and was invited to wordsmith for his new project. As a lyricist for Elephants of Scotland, he draws upon the fantastical and mystical, while never abandoning the actuality of humanity. He finds inspiration from sources that span the gamut from esoteric tarot to quantum physics to David Letterman. His other current project, Neb Crabula, is hard-edged absurdist rock-n-roll.